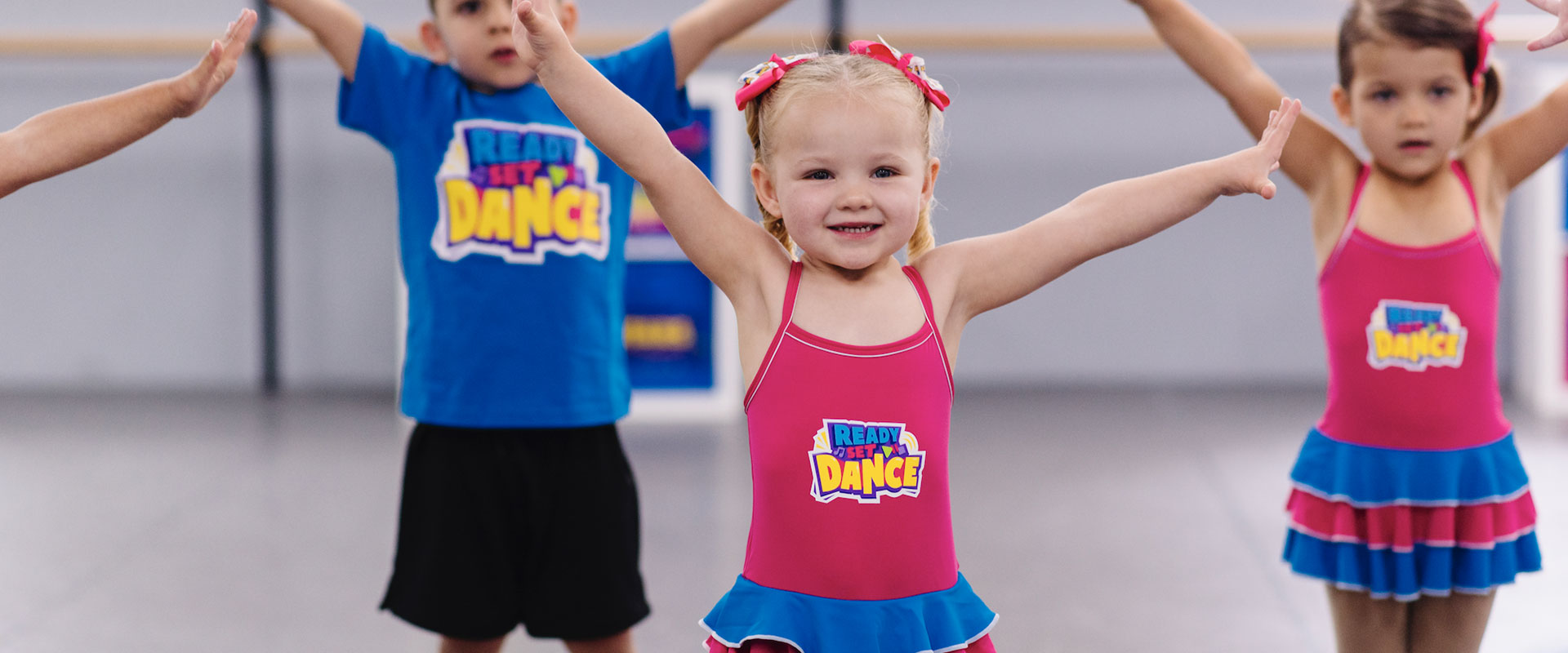 TODDLERS AND PRESCHOOL PROGRAMS AT ETTINGSHAUSENS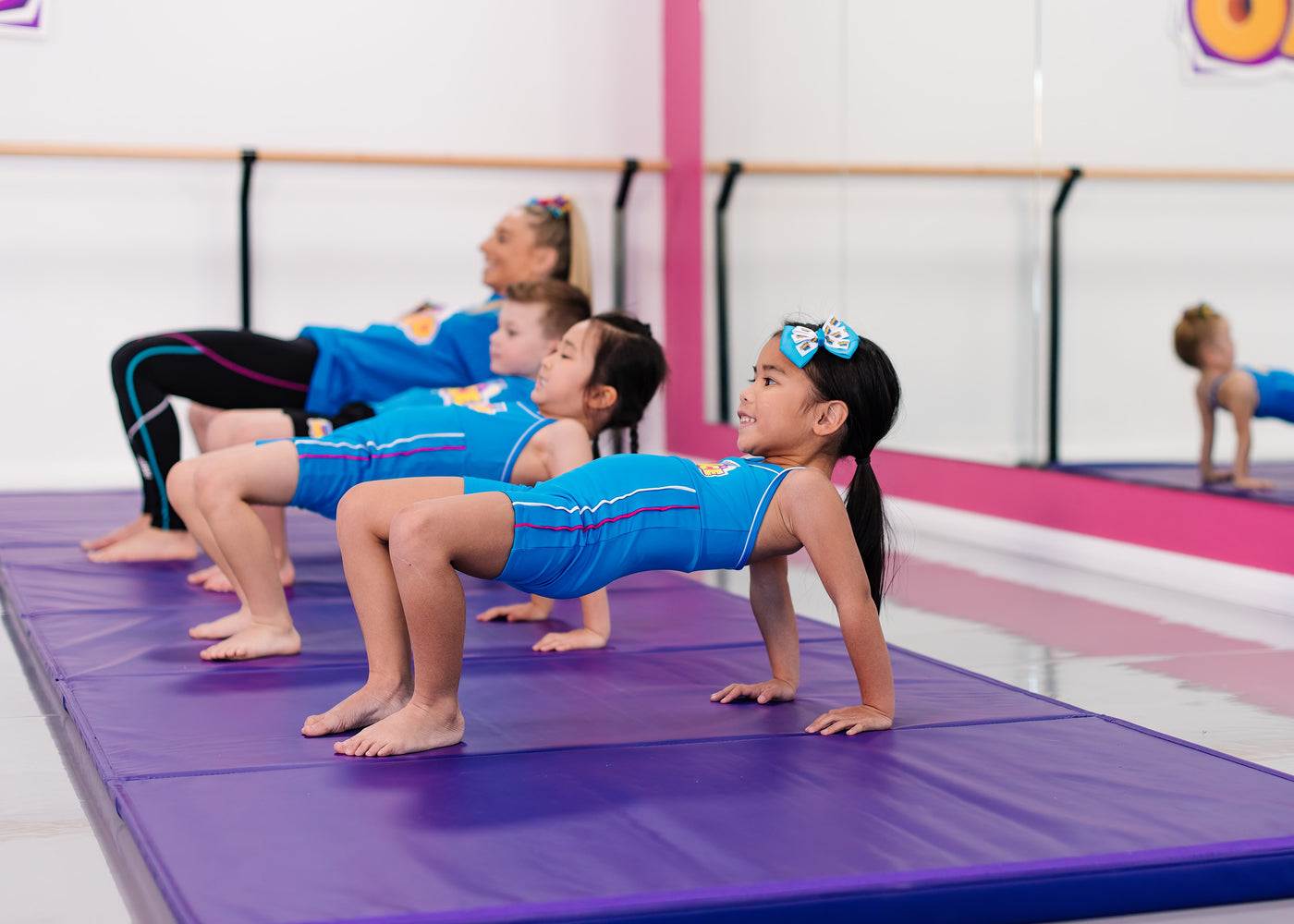 READY SET ACRO
Ready Set Acro is a collaborative acrobatic program developed with Industry Leader Acrobatic Arts, specifically designed for preschoolers. It emphasises safe and effective progressions to foster the physical and social skills needed for healthy early childhood development. The program is developed with original music with lyric cues and focuses on three key components: Stretch, Strength, and Skills.
Led by FLEXY, the Giraffe, the STRETCH component incorporates age-appropriate exercises to enhance flexibility and mobility, through movements like splits and backbends. The STRENGTH aspect, guided by BRIDGIE, the Elephant, builds physical strength and control through fun and safe exercises that help little dancers perform moves with power. FLIPPY, the Penguin, leads the skills portion, developing a range of acrobatic movements , from basic poses and balances, to more complex hand stands and cartwheels whilst always working at an appropriate level for their skill and experience.
The guided training and structured approach allows instructors to successfully conduct a dynamic and engaging preschool acrobatics class that not only promotes holistic developmental milestones but teaches a range of exciting AcroDance Skills.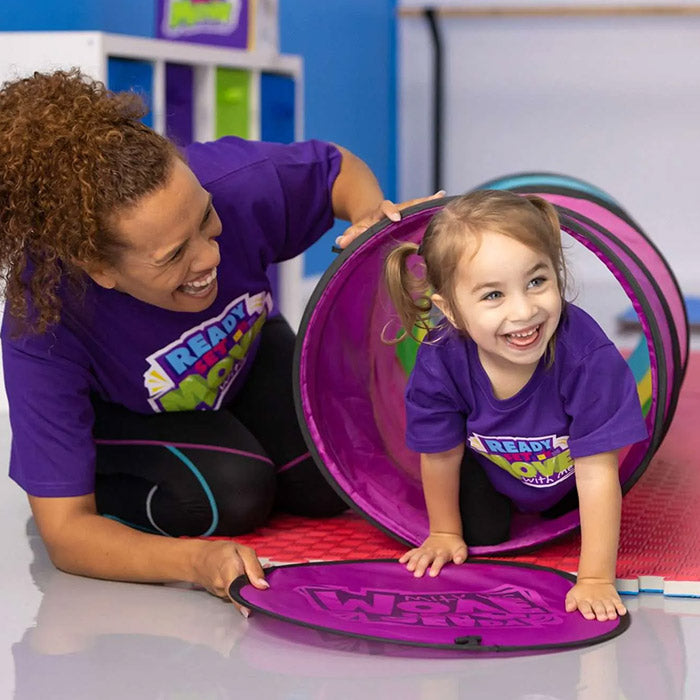 READY SET MOVE WITH ME
READY SET MOVE is a creative movement and music class for toddlers from walking to 3 years of age, and their grown up. The class consists of 3 sections – ENGAGE, EXPLORE AND EXPRESS.
The ENGAGE section is a playful exploration of music, nursery rhymes, lap play and parachute fun.
The EXPLORE section is set up as a circuit around the room with obstacles like stepping stones, tunnels and sensory activities designed to encourage investigation and build coordination skills.
The EXPRESS section of the class involves free dance movement which develops creativity with instruments, feathers and bubbles.
Participating in READY SET MOVE with the support of a grown up can make a significant contribution to play, development and learning. So come and bounce like a bunny, be slow like a sloth and create memories with your special little mover.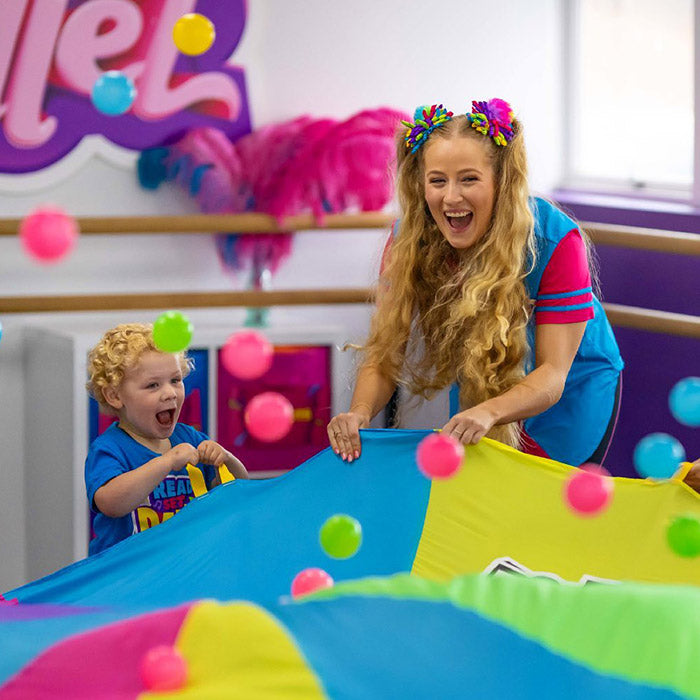 READY SET DANCE
READY SET DANCE is a one hour Ready Set Dance combo class of JAZZ, TAP, HIP HOP, SINGING and MUSIC. and a whole lot of fun! Suitable for preschoolers from 2 years of age.
JAZZ – Develop muscle strength, control and balance and achieve coordination milestones like skipping before going to school.
HIP HOP – Bust out some ice cold moves just like Freeze to our original hip hop tracks.
MUSIC. – Develop the musical ear, dynamics and tempo while having fun with instruments and the parachute.
SINGING – Sing like Twirl and build confidence singing on the microphone
TAP – Learn the fundamentals of tap in a playful and creative way splashing in puddles and shuffling like a penguin.
All these ingredients together create a super hour of fun!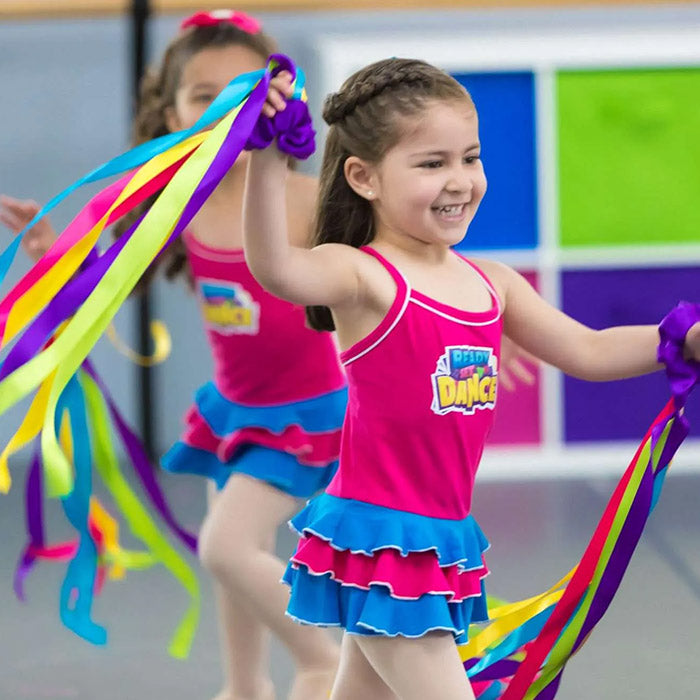 READY SET BALLET
READY SET BALLET is 30 minute magical ballet experience for 2- 5 year olds where they learn the fundamentals of classical ballet.
MUSIC – Engage in specifically designed music that captures the beauty of classical ballet.
CURRICULUM – Develop coordination, body awareness, strength and flexibility both through visual and auditory instruction.
MIME – Explore creativity and gain confidence by going on a picnic with FREEZE and TWIRL, riding the tutu train to storybook lane and so much more.
THEMED DANCES – Learn the beautifully themed dances that have music prompts to support preschooler's playful participation.
PROPS – Have fun twirling with rainbow ribbons, swaying with feathers and popping bubbles.
These resources support tactile awareness and strengthen fine motor coordination and control.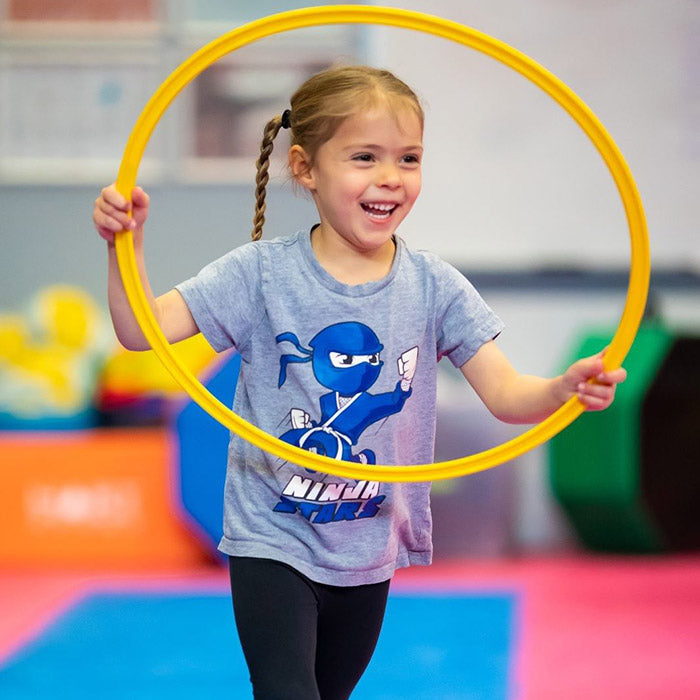 Ninja Stars
Ninja Stars is a jam-packed 45 minute lesson for kids aged 3 - 5 years old filled with exciting obstacle courses, various skipping, climbing and hoop drills to improve coordination and agility as well as various exercises to improve flexibility.
This is a slow introduction to Martial Arts, with the program incorporating basic stances, block and punches, as well as kicking skills and pad work which will help to develop distance, timing and coordination on both sides of the body.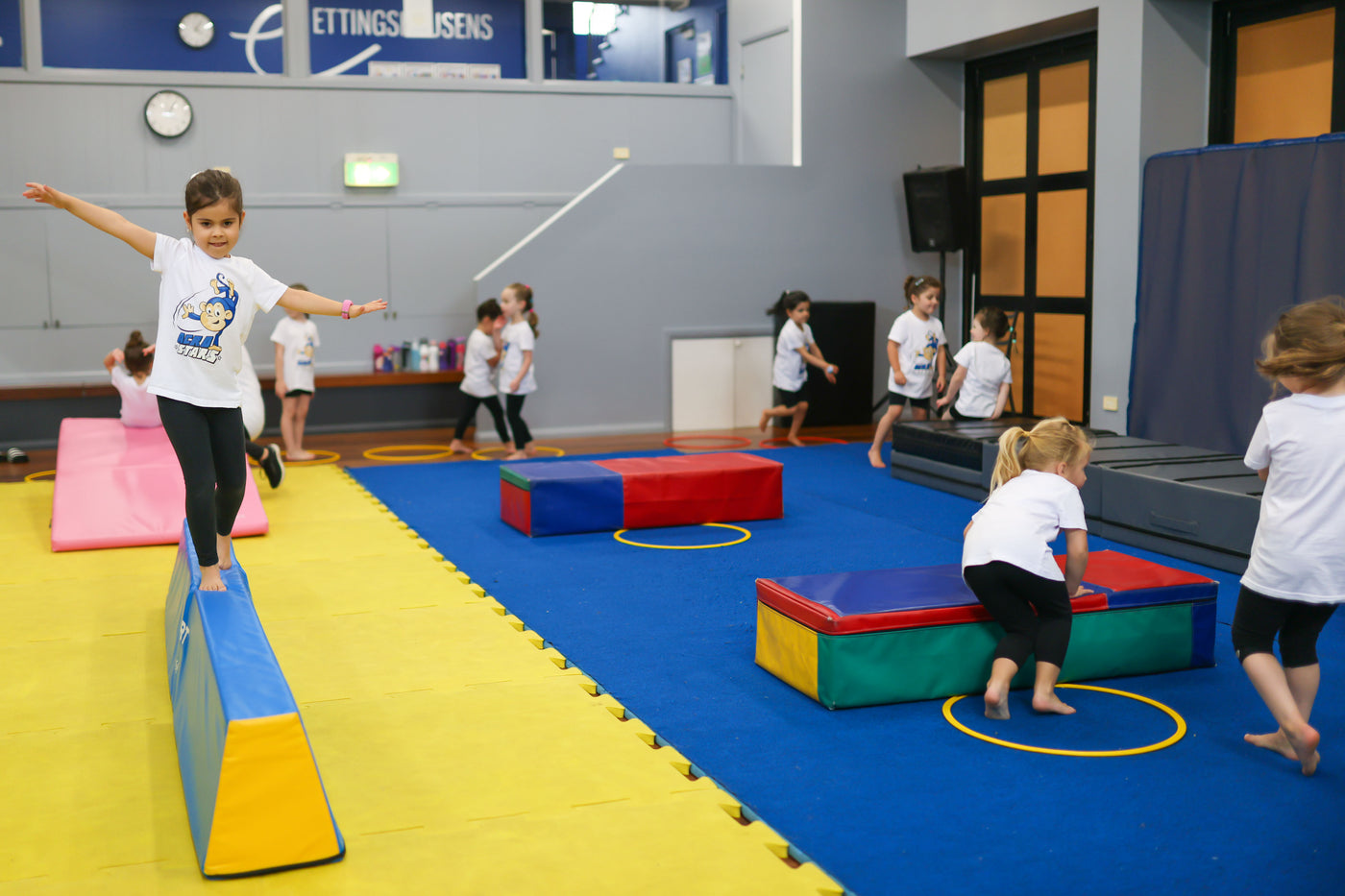 Acro Stars
This exciting class for students 3-5 years old is a floor-based gymnastics program where students will not only learn some exciting skills but also gain increased body awareness and strength.
The program includes safe progressions to both handstands and cartwheels, forward and backward rolls, back bends, trampoline jumps, balance beam skills and much more!
Our Acro Stars also learn how to stretch and support their body weight – all of this in a fun, encouraging environment!